Post by infernoquartz on Mar 16, 2016 21:30:14 GMT
GENERAL
Name
: Inferno Quartz
Age
: 20,000 years old. Appears early twenties.

Gender
: Male

Race
: Gem Permafusion
APPEARANCE
Gem(s)
: Ruby Quartz, Emerald, Sapphire.
Gem Placement
: Chest - Ruby. Top part of both hands, Emerald and Sapphire.

Build
: A very buff Gem, Inferno is very muscular.
Height
: 6"2

Skin Color
: White

Face Shape
: See picture.

Hair Style & Color
: See picture

Eye Color
: Red

Nose Type
: See Picture
Extra Details
:
Attire:
PERSONALITY
Overall: Inferno Quartz is one of the most loyal gems an individual could meet, assuming they could tolerate his ego and intensity levels. But beneath the surface he is a constantly bubbling volcano of anger that is just waiting for an excuse to erupt. Loyal to the Homeworld somewhat, Inferno has started to question the belief system of the Homeworld the one they try to indoctrinate into every Gem because he believes they shouldn't simply snatch the planet of a species away from them and kill them off. Inferno is somewhat protective of humanity, especially younger ones like Steven or Connie if he should ever encounter of them. Yet at the same time he knows he cannot bring himself to betray Homeworld...yet. For this very reason he's fiercely loyal to the Homeworld and hates the Gems who oppose them even if he believes humanity's been dealt a bad card presently.
Likes:
- Peace: As he is a Gem that often trains Gems to go out into battle, and crack each other's Gems, Inferno actually loves periods of peace because they are vacations for him from a job he loathes to do.
- Science: Even though he's not a Peridot, he seems to possess a love for science. This love for science motivates him to attempt to build overly complicated mechanical innovations, and complex gadgets that no one else could understand.
- Technology: Technology in all it's forms, even human technology is of interest to him.
- Humans: For some reason he likes the humans, but is a bit protective of them.
Dislikes:
- Technology Free Areas
- Gems who oppress others
- Water Elemental Gems
- Gems or Metals who use technology to oppress others.
Weaknesses:
- Water Elemental: Fire and Water are natural opposites. When fighting a water elemental Gem he would be at a severe disadvantage, in terms of powers.
- Out-thinking him: Should someone get him angry enough, it would be relatively easy to out think him.
- Rage: Inferno naturally has a hard time controlling his temper because he is a Fire Elemental Gem.
Strengths:
- Loyal: Inferno is loyal to a cause and will not betray those he deems his allies. This strength of resolve means that having him as your ally is a very good idea.
- Head First: Chances are Inferno would rush head first into danger, and try to confront it in order to prevent his allies from being hurt.
- Tactical Genius: As one of the former mentors of the Homeworld Gems, Inferno's a Tactical Genius.
COMBAT
Weapons:
Gauntlets: The weapon summoned from his Gemstone. They're shown in his picture.
Guns: Two laser guns that he keeps with him. They're shown in the picture below.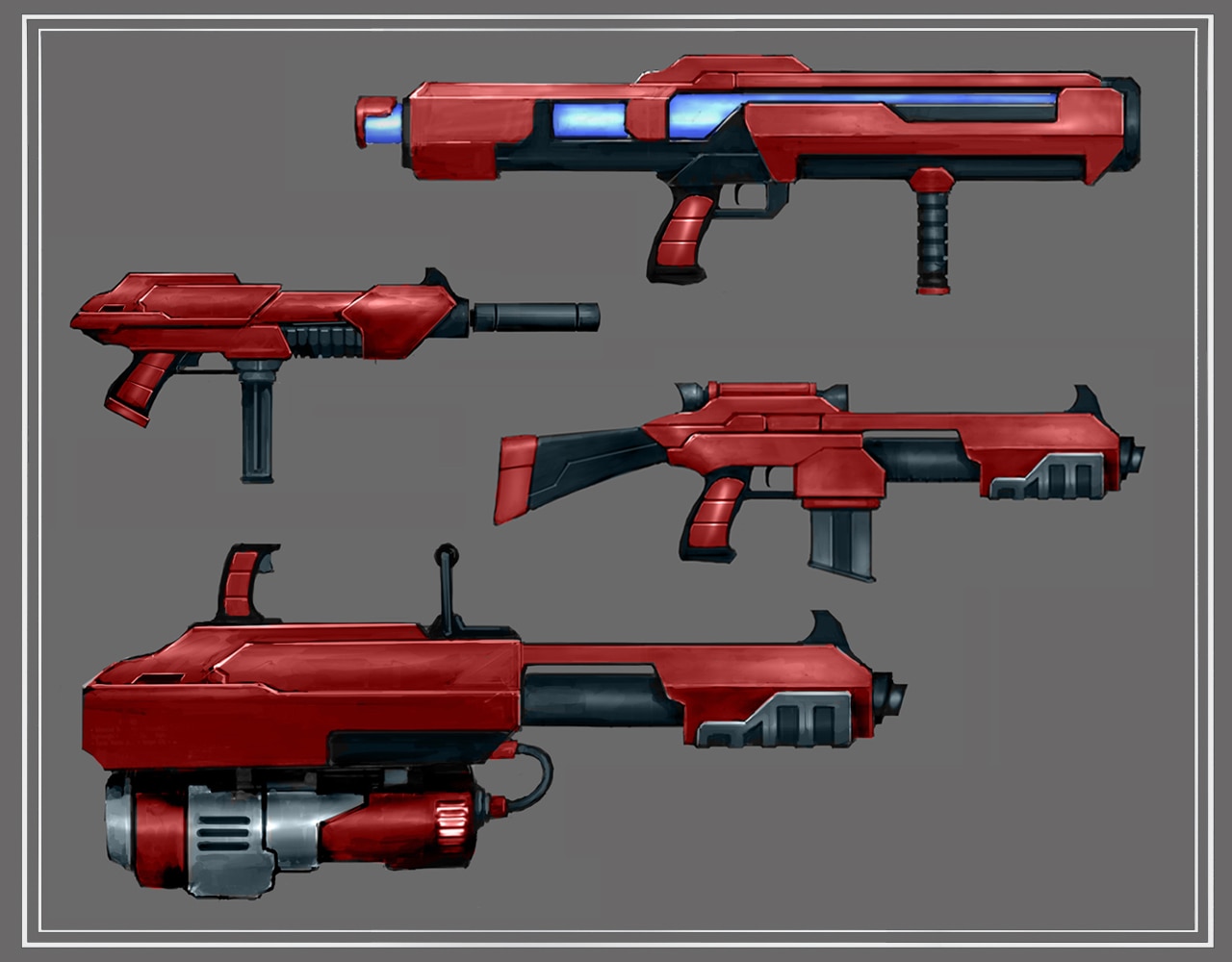 (PM Me and I'll tell you which one.)
Katana: A one of a kind katana forged from materials only found in specific meteorites. This is a very heavy blade, and is normally carried strapped to his back should he need it. It is not a weapon he stores in his Gem, however.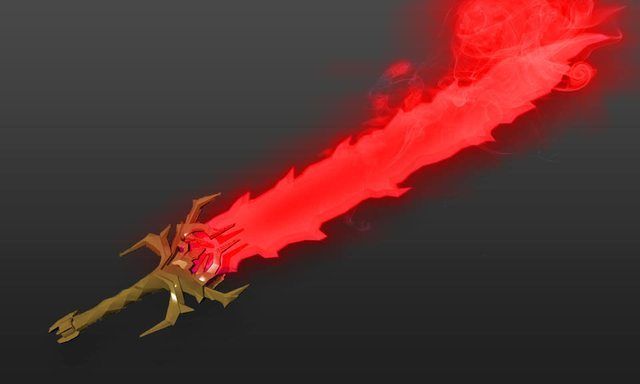 Abilities:
Ability 1: Fire Control: Similar to Lapus Lazuli or other elemental Gems, Inferno possesses the ability to generate and manipulate fire to a degree. This allows him to use it as extensions of his body. It also allows him to shoot fire-blasts out of his hands, and throw exploding fire-balls.
Ability 2:
Phoenix Regeneration: A Fire Elemental Healing Technique. This uses Fire to heal a Gem. This ability is similar to Rose's Healing Tears or Steven's Saliva. Yet it is more heat based than anything else. This also could potentially burn the corruption out of a Gem, purifying them. That aspect of the ability has never really been tested. However his ability is different in that it doesn't require physical contact. Instead it creates White Fire that has a healing effect on Gems, and a purifying effect on Corrupted that he can control with his first ability. Theoretically this could also heal the injuries of humans, but it's never been tested. This can only be used once a week because it is EXTREMELY taxing on him.
Ability 3: Roar of the Dragon
When he's down and out and his gem is having cracks by releasing a manly roar, Inferno can channel his own courage and spirit... using it to accelerate repairs on his Gem. This is not without a cost, as it completely exhausts him once he does so successfully. This can only be done once every 24 hours. Furthermore, this causes him intense pain once the gem is regenerated, pain that prevents him from actually fighting.
Fighting Style:
Inferno's Fighting Style could be described as a brutally efficient combination of Gun and Sword and gauntlets. When he fights Inferno will get up in his opponent's face and savagely beat on them with the gauntlets he wears, the Gem Weapon he uses. Once he has done that he will go to a distance, and start shooting them with a couple of laser guns... and finally come in close again with his sword, to slash at them once more.
HISTORY
Biography:
On one of the routine missions of the Homeworld, a mission to a distant planet Ruby discovered a large quantity of damaged Gems. On that world the Gems had been damaged by a powerful predator, a golem made out of pure rock. Sent there to dispatch the creature and investigate what had gone on Ruby discovered that a lone Emerald had been battling for about a decade without any time to rest or recuperate against the Golem but neither could win. Performing his first ever fusion with the Emerald, Ruby became known as Inferno. Using their combined power they were able to best the Golem and destroy it. Upon destroying it, Inferno realized that inside of it were several dozen corrupted gem shards. Taking those with him off world he bubbled them and brought all of them to the Homeworld. There a scientist, a Sapphire he was in love with tried her best to purify them of the corruption but couldn't succeed. Frustrated she danced with Inferno and so a fusion was created... a perma fusion of Three Gems which had been a rare thing. Adopting the name Inferno Quartz he soon became one of the best mentors the Homeworld had and became one of the more popular ones there was. However this would change upon his discovery of the planet Earth.
Discovering how fragile humans were, he's started to question the beliefs he's known all his life. In time he could perhaps be persuaded to join the Crystal Gems and their rebellion.